Eduard Ludwig (Louis), the youngest of Painter Weidenbach's eight sons, was born at Naumburg an der Saale, on the 22nd of February, 1834. In 1851, at 17 years of age, he was living with his parents and was already described as a "painter".
When his father died in 1860 he took over his father's post as drawing master at the cathedral high school (Domgymnasium). He continued to teach drawing at the school until 1866.
Louis married Friederika Whilhelmine Eleonor (surname unknown) who was born in Naumburg in September 1842.
In October 1866 Louis emigrated on the ship ASTRONOM to Baltimore Maryland with his wife. In Baltimore, Louis would have to joined his elder brother, the artist, Karl August. At the time that Louis emigrated he was a portrait painter and a pioneering photographer.

Louis and Friederika had one son, Rudolph, who was born in Pennsylvania in December 1876.
The US Census shows that the family was living in Baltimore Maryland in 1870 and in Philadelphia, Pa. in 1891 & 1900. Louis died before 1910. In 1910 Friederika and Rudolph were still living in Philadelphia. It seems that Friederika died before 1920.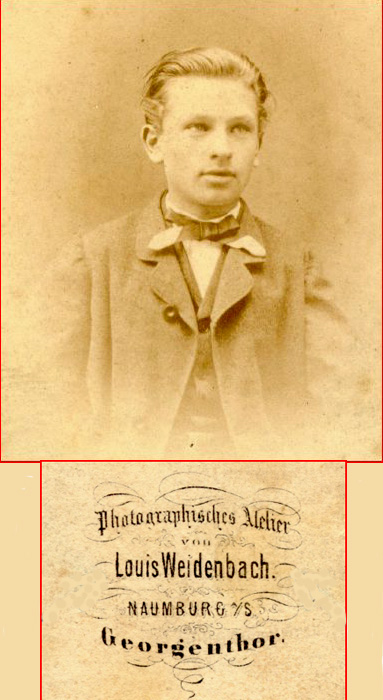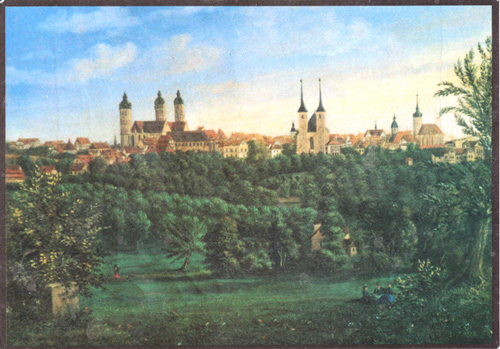 Photograph of Louis Weidenbach - Photographer
from Ingo Weidenbach 2012
Naumburg. Stadt Ansicht von Western by L. Weidenbach 1866
Stadtmuseum Naumburg an der Saale
A1. The following data has been extracted from the Naumburg "Inhabitants Book" by Dr Siegfried Wagner, Director of Naumburg Stadtmuseum and Frau Susanne Kröner, Head of Naumburg Town Archives.
Einwohnerbuch Naumburg T-Z 1826-1840; 1841-1850; 1851
Lfd. 1505: Weidenbach, Eduard Ludwig: *22.2.1834 in Naumburg. Wohnung wie oben.1842: 790; 1847:779; 1851: Maler: 777,767,962; Adressbuch 1866: Portrait-Maler und Photograph, Georgenberg 962. 14.8.1866 "nach Amerika".
Weidenbach, Fried. Wilh. Eleonore, verehel. Maler Weid., geb. Naumburg 1842, Wohnung 767, 962. Siehe xxx
A2. Ko V, 25, Bd. 9: Schulnachrichten des Domgymnasiums Nmbg.
1860-61, S. XI, Verordnungen und Bekanntmachungen:
"Naumburg, den 26. November. Das Hochw. Domcapitul genehmigt es, dass dem Herrn Louis Weidenbach, der schon bei Lebzeiten seines Vaters denselben, wenn auch nur kurze Zeit, vertreten hat, der Zeichenunterricht provisorisch übertragen werde."
(Naumburg, 26 November. The Hochw. Domcapital approves that Mr. Louis Weidenbach, who has already at short notice covered these duties previously done by his father before his death, be entrusted provisionally with the art drawing lessons.)
Schulnachrichten 1866-67, S. XVI:
"Am 1. Juli übernahm der Lehrer an der hiesigen Bürgerschule Herr Albert Kindler den Zeichenunterricht an Stelle des Herrn Louis Weidenbach, der nach Amerika übersiedelte."
("On the 1st of July Mr. Albert Kindler, the teacher at the local Burger School took over the art drawing lessons in place of Mr. Louis Weidenbach, who has moved to America.")
A3. The Maryland Census 1870 and US Census 1900, 1910 and 1920 include entries for Louis and his family as summarised above.
A4. Extract from Passenger List, Astronom, 1866

Ship Astronom Bremen, Germany to Baltimore, Maryland. 29 October 1866
I, A. Klopper, Master of the Ship Astronom of Bremen do solemnly sincerely and truly swear that the annexed list subscribed with my name, contains to the best of my knowledge and belief, a just and true account or report of all the passengers who have been taken on board the said ship at Bremen or any other Foreign Port or at Sea and brought in the said vessel into any district of the United States since her departure from the said Port of Bremen.
Sworn to this 29th day of Oct 1866 Aug. Klopper

List of all the Passengers taken on board the Bremen Ship, Astronom, whereof Aug. Klopper is Master, from Bremen to Baltimore.

Columns represent: passenger names, ages, gender or family status, occupation, nationality, and destination.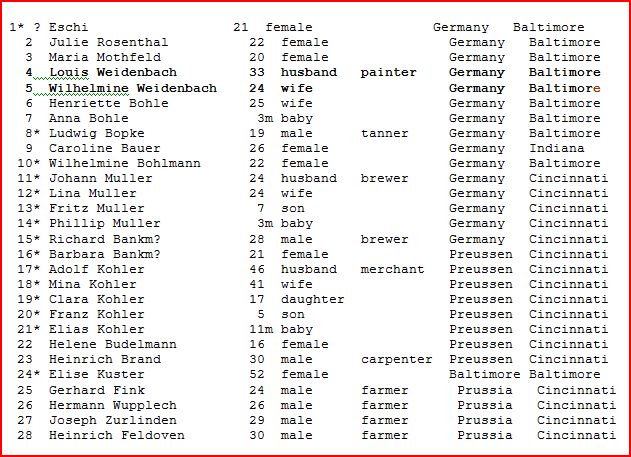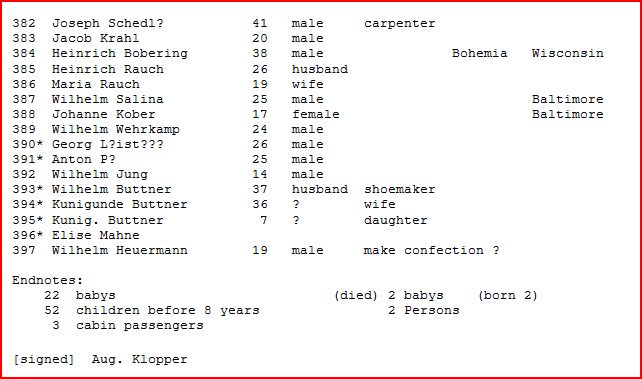 A5. Letter from the U.S.A. written by Louis Weidenbach in 1891 and addressed to Paul Weidenbach (son of Louis's brother Ernst Weidenbach) in Dresden. (Translated by Ingo Weidenbach, 2004 and copies are held by several family members.)
In the letter he refers to: "your son Oswald (Ingo Weidenbach´s father) …. your sister Anneliese and …. my Rudolph." "your brother Richard (whose wife is Berta), you yourself, Johannes and Georg, the two sons of your deceased uncle Gustav as well as the children of your deceased uncle August in New York." "My adress is Mr.L.Weidenbach, Artist 926 Wallace Street Philadelphia, Pa (Pennsylvana, USA)"
In this letter Louis discusses the will of his brother Max Weidenbach, who had died in Australia in 1890. He obviously believes that the bequests were unfair. However when one reads for example Diosma's diary, one finds that the long history of family financial support and endowments was complicated and therefore one must be careful not to draw any conclusions from one distant perspective.