A1. The following data has been extracted from the Naumburg "Inhabitants Book" by Dr Siegfried Wagner, Director of Naumburg Stadtmuseum and Frau Susanne Kröner, Head of Naumburg Town Archives.
Einwohnerbuch Naumburg T-Z 1826-1840; 1841-1850; 1851 Lfd. Nr. 432: Weidenbach Friedrich Moritz (Sohn von 429); 24.2.1816 in xxx bei Dresden Y KgI. Sachsen. "Nach Merseburg 16.4.1831"
A2. Biographical Index of South Australia 1836-85 publ. May 1990 WEIDENBACH Fried Moritz par: Maximilian b: 24.2.1816 Friescha*, Germany d: 29.1.1858 Glen Osmond SA arr: 1848 PAULINE occ: Nurseryman, Orchardist, Hotel Licensee** res: Glen Osmond rel: C/E m: 14.6.1842 Merseberg, Germany Diosma Augta nee STAUBKE par: Adam Christian and Marie Karoline nee WAGNER b: c1817 Germany d: 17.12.1900 ch: Benno (1844-1886), Maximilian (1847-1886), Anna BARTELS (1848-1910), Pauline Oceana PUSTKUCHEN (1848-1929), Edwin W. (1852-1927), Diosma Laura (1854-1857), Clara W., Selma CLAUSEN, Julius W. (* Kreischa? via Dresden - kw ** Moritz's widow, Diosma bought the "King of Hanover Hotel in 1865, after Moritz' death - kw))
A3. Passenger List, Pauline 1848 SOUTH AUSTRALIA WE ARE BOUND - PASSENGERS 1836 - 1888 by Dianne Cummings http://www.slsa.sa.gov.au/fh/passengerlists/Adelaide.htm The Sailing Ship PAULINE departed from Bremen on November 21, 1847 under the command of Captain L Steljes, and arrived Port Adelaide on March 31, 1848 with 68 passengers.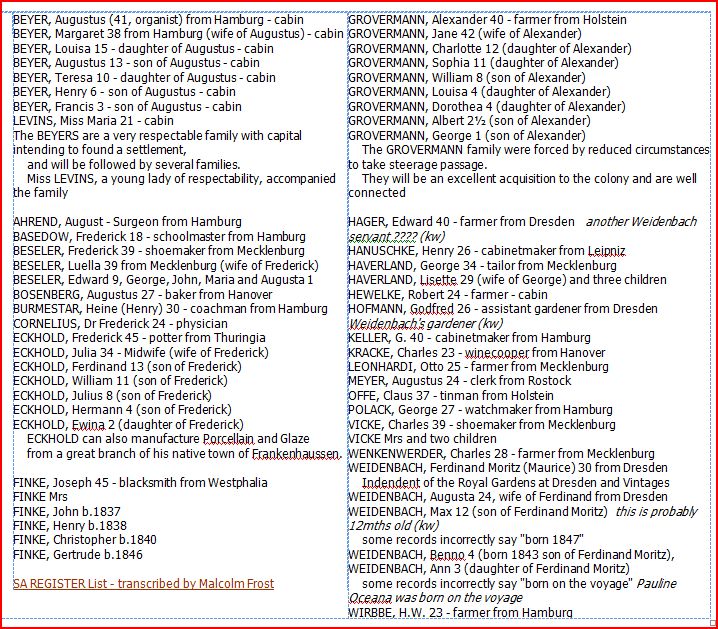 A4. In "Der Auswanderer nach Südaustralien" by George Doeger (Tangermünde, 1849), the editor published a letter which Moritz wrote home to Germany on May 12 1848, two months after the conclusion of their voyage. The publisher described Moritz as: "Kunstgartner auf Dresden, Bruder bei Brn. Ernst and Max Weidenbach am König. Museum in Berlin." (Landscape Gardener from Dresden and brother of the brothers Ernst & Max Weidenbach of the Royal Museum in Berlin). The following extracts are of particular interest:
"After 19 weeks at sea, during which we experienced storms and many unpleasant situations_ and on which around 23 degrees latitude (in the vicinity of Brazil) our daughter was born, we eventually dropped anchor before Adelaide on March 30th, in the vicinity of the lightship. By April 17th we were in the harbour. Sobels and others came aboard on March 31st, and all were well and healthy. A three day journey into the interior of the country – my wife staying aboard the ship – familiarised me to some extent with the land … "
He advised any other Germans emigrating to South Australia that: "One should not forget the tools one will need, principally German saws. A dozen saw-blades will be invaluable, as here they are rare; and do not forget some large pit-saws! Wagons and ploughing implements can be left home as they are not suited to the land; the ones here are of very hard wood, far harder than our oak. The German implement is too lightly built."
(These extracts have been taken from Chris Illert, 1981 "Commemorative Biography of Maximilian Ferdinand Weidenbach" )
A5. Tagebuch von Diosma Weidenbach. The diary entries by Moritz' wife Diosma from Dec. 1870 to Feb, 1882 (13pp) chronicles some of the events and expresses her feelings as she interacts with various family members - her joy, her angst and her hopes. Copies of this private document, including an english translation, are held by various family members.